Retail Design and Merchandising Tips from Petite Studio NYC That Will Transform Your Store
1) Determine the store's goal:
Petite Studio New York's (PSNY) retail space was inspired their founder, Jenny Wang's, dream of creating a "cute space" her customers would love. For this brand, a "cute space" translated into the idea of a "pink palace" which is a space with feminine colors including light pinks and gold accents and Parisian luxury materials like velvet, marble, and modern looking golden toned wood.

Jenny wanted her customers to feel at home, feel welcomed and to feel like the space was made just for them while establishing the brand's aesthetic and style. We wanted the digital version of the brand (the e-comm website and instagram) to "come alive" and be "personalized" in the physical space so the clients would truly experience the PSNY brand at it's fullest.
2) Determine the store's key elements:
For Petite Studio, we needed to have multiple dressing rooms. This was the priority request to accommodate several clients at once and ensure the luxurious experience could be had by each client.
There were other key elements or fixtures we needed to have in the store to accomplish the goal we defined in step 1.
Key Elements:
1) Large VIP dressing room
2) Two smaller, dressing rooms
3) Large table to display merchandise
4) Simple and not large cash wrap
5) 3 large clothing racks to hang the merchandise
6) Seating area for client's and guests
3) Determine your store's "sight lines"
The purpose of sightline is to add visual cues to your customers as to the direction they should naturally walk around in your store. The sight lines are the visual "anchor."
The challenge of the Petite Studio space was it's a "shotgun" style room, meaning a rectangle shape that has two different "front door" entrances. One from the stairway and one from the elevator. Our design had to have multiple visual "sight lines" to anchor the space so that no matter which door the client came in from, the space felt intentional and that there was a visual focal point to guide them through the retail space.
The primary sight lines for the PSNY space are:
1) The large center display table, with marble top that has a built-in couch covered in luxurious emerald/teal velvet.
2) The pink velvet double dressing room curtains on the left side of the store.
3) the cash wrap on the right side of the store.

We wanted the shop's visitors to make a "figure 8" by exploring the large center table/couch piece, then walk behind it, explore the clothing racks on the left side, move though the racks, then naturally come to the dressing rooms, try items on, leave the dressing room, walk on the other side of the large center table/couch towards the smaller display table that is filled with fun accessories and then encounter the cash wrap once they have seen and experienced and touched all the wonderful clothing and accessory treasures on display in the store. Having a sightline (or sightlines) helps you control and create the customer's flow through your retail space.
Visual Merchandising Tips:
1) Color or Print Blocking
This is our favorite merchandising tip! Color or print blocking means you display the goods in similar color groups so visually the store displays flows. Think of a rainbow and how pleasing that is too look at.

This merchandising technique is the fastest and easiest way to make a retail store feel elevated, clean and organized. It's also a trick used by most luxury stores to make the displays feel, well, more luxurious.
To implement is simple: you merchandise the products by color. For example all your yellow's would be together (this includes all types of clothing and all materials such as linen, silk, denim, etc.), next you would group all of your blue items together, then group all of your pink items together. Hence you are making a "block" of color on your racks or displays.

If you have a lot of patterns you can either mix a few of the patterns in with the solid color groups, or you can merchandise the patters in blocks of the colors. In the image above, PSNY is merchandised by the print colors of yellow and while.

When merchandising by patterns, pay attention to the background color of the pattern, meaning the non print color. Group either all the background colors together or the main print colors together this will help keep the displays from looking messy.
PSNY has merchandised the background colors of white background and yellow print, with yellow background and white prints. So here is another way to mix up the idea of color or pattern blocking! See how sophisticated you can get with your color blocking in your space
For extra "wow" use two fingers as a guide to evenly measure and adjust the space between the placement of each hanger on your displays. This will create a very uniformed and organized look that is 100% instagram worthy!
2) Matching & Branded Hangers
Matching hangers are a must! This means all the hangers are the same material, color and size. PSNY has white wood hangers to match their space and brand colors.
Hangers that are branded in the company colors with the company logo are one of the best ways establish your brand's recognition in the minds of your clients. They get to see your logo on every hanger they pick up! This is good branding but also makes your racks look neat and fancy.

We asked random customers to describe our client's stores and the shops that were described as "beautiful" or "luxurious" or "peaceful" or "pretty" all had matching and branded hangers.

It's safe to say, this one element goes a long way to establish your store and brand in the mind of your customers. Do it please!
3) Group Similar Products Together
This might seem almost too simple but its important to mention, since most forget how powerful this tip can be to add additional items to a sale. Think about what you clients buy and how they use the items, so in your store, items that should be sold together need to be grouped together! Make it easy on the clients to find what they need or want!

Another interpretation of this tip is to group all similar items together, meaning all the coats would be in one area, all the jeans in another, blouses in another. If you have a huge store, like a department store, this can be an affective strategy because clients can see all the options available to them, however, we have found for fashion boutiques and speciality retail stores this is not an effective way to merchandise so please don't do it if your space is less than 4,000 square feet.
4) Use Mannequins
Mannequins are a forgotten gem of the past in many speciality fashion boutiques, we are not sure why because they have been an incredibly affective way for selling outfits for generations. If you sell clothes, your store needs at least three mannequins in the sales floor area. Customers will buy what they see so, please show them what it is you want them to purchase!
We recommend dressing your mannequins in the key outfits that are in the hero images on your website, or are the key outfits featured in your email newsletter or the outfits in your most recent social media campaign.

The purpose of a mannequin is to be a "billboard" for how to wear the clothes. Yes, your sales associates should do the same but when the mannequin outfits match the marketing, web or social media you will see that the items will be the items that sell though better due to higher visibility.
Very important tip: change the mannequins often so they match your social media and website in real time! It's best when a customer googles your shop, sees the website or instagram, then comes to the store to see the very same outfit featured when they first come in! Talk about consistent visual merchandising right there!
5) Have Live Plants
Know your customers, and if your customer is a millennial, then you need live plants in your retail space! Speciality retail stores in the 21st century are designed to be inviting and home-like. What better way to create this feeling than with house plants?

Plants are necessary and excellent visual merchandising element because they add height, color and a new texture to space. Plants are good for the air and have been shown to increase people's moods! We all like happy customers!
For Petite Studio New York, we used plants to add height to the space as well as make the dressing rooms and display tables more interesting.
You will notice after a little bit of social media research, the stores that get most of the love on instagram have a plant(s). Shoppers love them so please include them in your store! Excellent options for height are:
1) Olive Trees
2) Fiddle Leaf trees
3) Rubber Fig Trees
4) Fruit Trees


Design Tips:
1) Know your goals of the retail space.
2) Know the key fixtures or elements you need for your store goal.
3) Determine what your space sight lines will be based off the fixtures and elements.
Visual Merchandising Tips:
1) Color or print blocking arrangement technique for merchandising.
2) Have matching and branded hangers.
3) Group products that would be purchased together in the displays.
4) Use at least 3 mannequins.
5) Have live plants in the store.
If you have questions or need help implementing any of these tips please reach out to us directly: hello@retailforthepeople.com
Next time you are in Soho, please pay a visit to this Petite Palace and do some shopping for the petite women in your life (or for yourself!)
Retail Store Address:
34 Howard St., 2nd floor,
New York, New York 10013
Phone:
(929) 445-3740

Instagram:
@petitestudionyc

Website:
www.petitestudionyc.com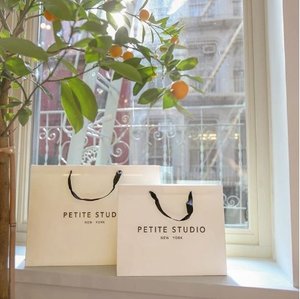 All sketches were created by A. Sayre for Retail for the People. All pictures used in this post are from Petite Studio's website (www.petitestudionyc.com) or instagram (@petitestudionyc)
---